Sema 2012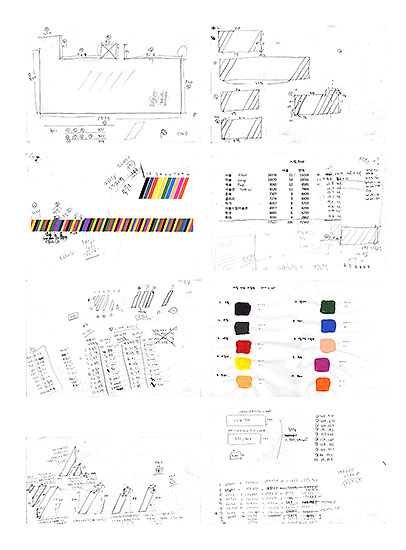 by numbers series: Seoul Museum of Art 2000-2011

by numbers: Seoul Museum of Art 2000-2011 is of 'by numbers' series site specifically designed to install in the context of Seoul Museum of Art. While previous painting version involves colors and words from magazines like Art in America, New Yorker, Vogue with 10,000 squares, now the entire walls of the exhibition space are filled with diagonal color strips.
In the same way, 48 exhibition catalogues of Seoul Museum of Art from 2000 to 2011 were scanned and computed 10 words and colors were visualized in the exhibition space. Ten words and ten colors were selected among 1,018,164 words in 80,258 sentences written in 7,811 pages from 48 catalogues, and the space of 174.1 m² is divided according to the rate. The resulting appearance of this work is similar to that of Daniel Buren. The visual outcome seems direct employment of image appropriation that recurs in contemporary art, and yet the process behind the image makes a clear distinction. Through rigorous process of mathematically and statistically abstracting museum exhibition documents (history, data), the work goes beyond simple visual repetition or appropriation.

This 'by numbers' series opens up layers of different interpretation possibilities of 'painting' in contemporary art as one realizes that the vibrant geometric color fields in this series of 'by numbers' imply contemporary culture .


Posted by
.(JavaScript must be enabled to view this email address)